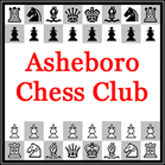 is proud to announce
The Asheboro Open X
Results
Total Players: 18
Total Prizes: $360.00
Cross table: USCF Crosstable
PHOTOS: The Asheboro Open I
Section Winners:
Championship (Open; 1700-Up):
1st Prize ($110.00) FM Andrey Chumachenko (3.0)
2nd Prize ($50.00) Eugene "Wiz Kid" Tiselsky (2.0)
Candidates ( 1699-Under):
1st Prize ($110.00) Robin "Echidna" Johnston (3.0)
2nd Prize ($50.00) Tanner "The Hood" Hogue (2.5)
Some Thoughts on The Asheboro Open IX
from William "Tom" Hales, Organizer & Chief TD
This was some of the best fun I have had running a tournament! If you haven't made it to Asheboro, you are missing out
on some great chess action!!
We were honored to have FM Andrey Chumachenko among a very talent field of competitors. Chumachenko dominated the tournament, and captured clear 1st with his flawless 3.0 finish. Eugene "Wiz Kid" Tiselsky sent shockwaves through the Championship Section with two exciting upset wins that earned him clear 2nd place.
In the Candidates Section, Asheboro's own Robin Johnston captured clear 1st with his perfect 3-0 performance. Young gun Tanner Hogue was undefeated with 2.5 and earned clear 2nd!
I want to thank everyone who helped make this tournament a success. We want to welcome Charlotte's Gary Branton to his first Asheboro Open. Charlotte is home to many of NC's most talented players, and we appreciate their support! It was good to see Larry Williams back after a short hiatus. Larry's consistent support of this tournament has been an important part of our success. A special welcome to David High, who attended his first non-scholastic tournament, and earned an impressive win over Asheboro veteran Mark Stout.
I could easily list every person who played in this tournament, because we appreciate each and every one of you!
I want to thank Robin Johnston for his extensive help with set up and also cleaning up after the tournament. As usual, Asheboro's John Davis helped out behind the scenes setting up tables on Friday. I really can't say enough about all the fine folks that help make this tournament possible, including Robin Johnston, Rick Upchurch, and Mark Stout.
Asheboro Chess Club member Robert Coble recently donated about thirty books to the club. We had a small book sale at the tournament, and 100% of the proceeds went to support not for profit club events. Asheboro Chess Club wants to thank him for his generous donation!
This has been a great year for Asheboro, and for North Carolina Chess! Come see us on April 8th for The Asheboro Open XI!
We appreciate your support!
Sincerely,


William "Tom" Hales, Assistant TD

The Asheboro Open

chess@triad.rr.com
Asheboro Chess Club subscribes to the "Activity Means Members" philosophy of the
US Chess Federation. Rated chess attracts new members, and helps regain those who have
lapsed. We want to thank everyone who participated, and we encourage you to support other
tournaments and clubs in the area:
http://www.ncchess.org/tournaments/index.htm
http://www.ncchess.org/clubs/index.htm
Asheboro Chess Club meets Tuesdays from 6:00pm until 9:00pm
at the Asheboro Public Library (201 Worth St. Asheboro, NC 27203)
We are USCF affiliates, and sponsor a variety of rated events.
Visit our website for more info: http://asheborochess.com
or email me with questions or comments: chess@triad.rr.com