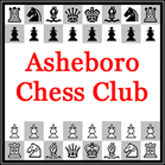 is proud to announce
The Asheboro Open XII
Results
Total Players: 15
Total Prizes: $250.00
Cross table: USCF Crosstable
PHOTOS: The Asheboro Open I
Section Winners:
Championship (Open; 1700-Up; All Players):
Note: There were thirteen paid entrants and two house players (John Davis
and Tom Hales). House players pay no entry fee, but also do not contend for
prizes. Their purpose is to help avoid forced byes.
1st Prize ($150.00) Michael B. Carroll (3.0)
2nd Prize ($75.00) Jacob Parrish (2.0)
Larry Williams (2.0)
Samuel Xin (2.0)
Eugene Tiselsky (2.0)
Class Prize: ($25.00) Spencer Singleton (2.0)
Some Thoughts on The Asheboro Open XII
from William "Tom" Hales, Organizer & Chief TD
I find it disappointing when we do not have at least 16 players. In Asheboro, our cutoff in order to have two sections is 16 players. This keeps prize funds high--which we hope helps lure top players. We want to guarantee that the Championship Section pays a great prize. When we have 16 players, it allows us to have two sections--each with the same generous prize fund. Two sections also makes for better pairings.
Admittedly, no solution is perfect. We adopted the Smart Sections philosophy so that when entries are lower, the prize fund actually increases in the one section. The theory behind this is simple: a larger prize fund will draw more entries in the future.
The downside to this method is that sometimes lower rated players face difficult pairings with little chance of success. Of course, this can also happen in any smaller Swiss tournament.
John Davis agreed to help us even things up as a "house" player in round one, and I played in rounds two and three. John Davis is one of the unsung heroes who help make The Asheboro Open a reality--helping me quietly behind the scenes each month with setup.
This tournament was literally up for grabs with THREE former Champions or Co-Champions in contention. Former champions included Jacob Parrish, Michael B. Carroll, and Matthew Greene. Add to that wiz kid Eugene Tiselsky and Chalotte's X-man Samuel Xin, and almost anything could happen!
When the dust settled and the pieces were back in the box, experience won out over youth as Michael B. Carroll won convincingly with his perfect 3-0 shutout. Several byes and draws lead to a four way split of second place honors. Jacob Parrish, Larry Williams, Samuel Xin, and Eugene Tiselsky divided the spoils. Charlotte's Spencer Singleton tied for second also, but walked away with the larger class prize. Asheboro wants to congratulate all the winners (applause; standing ovation).
I want to say a special thank you to assistant TD Rick Upchurch for taking off work to play and help with the tournament.
We need your help, folks. Please support your local tournaments when you can. I remember the days when there was only one monthly tournament in North Carolina. This is a great time for rated chess--with enough tournaments geographically situated to make chess more convenient for all players.
I have heard some state that there are too many tournaments in North Carolina right now--that the supply has exceeded the demand. I can't agree with this pessimistic outlook, though. I believe that when tournaments are more convenient, more players will make time to attend. This idea may need time to catch on, but I think anyone who crunches the numbers will see that chess in NC is growing in popularity. Let's keep this trend going.
Overall, it has been a great year at The Asheboro Open. Help us make next year even better, with more average turnout and greater prize funds. We appreciate your support so far.
Sincerely,


William "Tom" Hales, Chief TD

The Asheboro Open

chess@triad.rr.com
Asheboro Chess Club subscribes to the "Activity Means Members" philosophy of the
US Chess Federation. Rated chess attracts new members, and helps regain those who have
lapsed. We want to thank everyone who participated, and we encourage you to support other
tournaments and clubs in the area:
http://www.ncchess.org/tournaments/index.htm
http://www.ncchess.org/clubs/index.htm
Asheboro Chess Club meets Tuesdays from 6:00pm until 10:00pm
at the W.H. Moring Arts Center, 123 Sunset St, Asheboro, NC 27203)
We are USCF affiliates, and sponsor a variety of rated events.
Visit our website for more info: http://asheborochess.com
or email me with questions or comments: chess@triad.rr.com